Arts Council England has now published its latest Annual Survey Analysis for National Portfolio Organisations (NPOs) and Major Partner Museums (MPMs) for the financial year 2014/15.
The Analysis looks at the breakdown of income from all participating NPOs, of which there were 683 in this financial year. Income is broken down across strands, with Contributed (i.e. fundraised) income as one strand. This includes philanthropic income from individuals and Trusts & Foundations, as well as business sponsorship.
So, what do we learn from the information? Overall, Contributed income accounted for an average of 12.4% of all income for NPOs. Contributed income has shown the strongest growth across all income strands of 8.4% over the period 2012/13 to 2014/15, whilst Local authority subsidy fell by 12.8% and Other public subsidy by 7.1% over that same period. Arts Council England subsidy grew by 0.8%, and Earned income by 5.2%.
These trends again underline the importance of developing Contributed income streams for longer term stability. Fundraising is a long-term game. Relationships with individuals, Trusts & Foundations and businesses that are initiated now may start to bring in income in one or two years' time. Organisations that still see no immediate need to increase their fundraising capacity (and by that I mean staff resources, because to build relationships you need people-time) really need to consider their five-year income projections and plan accordingly.
The chart below shows the total amount of income for NPOs based in each region, broken down across the three Contributed income strands. The 'National' grouping contains the ten largest NPOs, including the Royal Opera House, Southbank Centre, and the national touring opera and ballet organisations.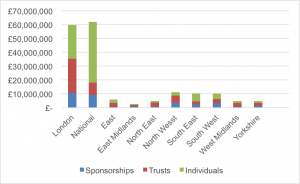 The difference in Contributed income levels across regions is due to a number of factors, including variations in the kinds and scale of NPOs based in each region. It seems obvious that large-scale, London-based, often lyric (opera, orchestral music and ballet) organisations would show the greatest levels of Contributed income, but this is not simply an inevitability, but also partly because of the maturity of these organisations' fundraising operations. They have invested staff and financial resources in fundraising over decades, and now can look on this as a mainstay of their income profile.
The point I'd like to draw attention to is the proportionate differences in levels of Contributed income from individual donors across the regions (this could be any income from cash in donation boxes through to major gifts). Income from individual donors is considered to be the main area of future growth across the charitable sector. The chart below from the Association of Charitable Foundations' Research into the Top 100 Family Foundations demonstrates that, by their calculations, almost two third of private giving comes from individuals. To grow Contributed income for the future, organisations must develop their Individual giving strategies. This is one of the reasons why Arts Council England prioritised Individual giving within its Catalyst: Evolve funding programme.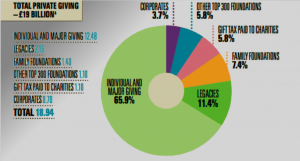 From whatever base an arts and cultural organisation is starting from, they should be planning to grow their Contributed income over the next five years, and particularly looking to initiate, or extend, their Individual giving strategies.
Please do have a look through the Arts Council's report – it's a great source of information for benchmarking and planning. Please let us know what caught your attention!